The Triumphant Tale of One Dude's Crowdfunding Campaign
Hi there.
My name is Daniel. And today I'd like to share a triumphant tale with you.
I recently wrote a book called The Traveller, and to print the book I needed some funds. So I decided to do a crowdfunding campaign. That way, I could take pre-orders and maybe even leverage a bit of media attention.
Over the course of a few weeks, I stitched together a pretty tight campaign. At least *I* thought I did. But the truth is, you never can really tell how an audience will react until you lift the curtain. I was nervous.
But at noon on Wednesday the 4th of September, I clicked "Go Live!" and the show began.
There was no turning back.
 *
This is what it looks like when you launch a campaign. Kind of sad and lonely, no?
Instead of hitting "refresh" every minute and letting the self-doubt eat away at my insides, I decided to close my computer. I went for an hour long walk. I needed to get meditation-like and clear my mind . . .
When I came back, I had some emails indicating that the magic had begun!
And I was all like . . .
My Dad immediately got on board. If you live in my hometown of Prince George, he was offering home delivery. Bless his soul . . .
Maybe it worked, because that little number just kept growing . . .
That first day, I went to bed and the campaign had made $2370. And I was all like . . .
And then the next day, THE SUPPORT JUST KEPT POUNDING IN.
And with all that support, came more funding . . .
And I was all like . . .
That Friday night — just two days after the campaign launched — I took this next screen shot. And then went to bed.
And since you're wondering, this is what I looked like when I was sleeping that night . . .
I woke up the next morning. A dude in England — who I have never even met like EVER before — pushed the campaign over the edge. In less than three days I had reached my $5000 goal!
So I did a little dance . . .
But then I was all like, "SHIT — I got 38 days left in this campaign. What am I going to do?"
That's when Stefan at Indiegogo emailed me and was all like, "DUDE. You gotta make some stretch goals!"
And I was all like, "Stretch— WHAT?"
And he was all like, "New objectives that will encourage people to keep supporting your project!"
And I was all like, "Yeah man, good idea."
So I made some stretch goals . . .
And people kept on supporting. And even leaving the most encouraging comments!
Such as my volleyball coach from when I was 15 years old . . .
And I was like . . .
And then on the ninth day of the campaign, my friends at N/A Marketing got together and funded me. As a marketing and communications company that helps big brand do socially conscious endeavours, they do good work. I knew they were classy.
But then THEY WENT TOO FAR.
They funded ONE THOUSAND FRICKIN' DOLLARS.
I was all like this guy (but with more beard) . . .
That was Friday.
I spent the weekend doing this . . .
Over the next few weeks, things progressed. And one by one I began to knock off those stretch goals:
– I didn't have to go into personal debt
– I could afford to do formatting for ePublishing
– I received enough to do an audio version
And the campaign even attracted a bit off external attention.
Indiegogo featured me on their blog . . .
Canada's biggest media, CBC, featured The Traveller in their "Books" section . . .
But the question remained: Would the campaign cross over into five digits?
With only five days left to go, I worked that campaign.
More tweets.
More Facebook updates.
More hustlin'.
And then my good friend Eric came out of the woodwork and sealed the deal . . .
And then this was me . . .
This is what the statistics looked like . . .
At the beginning of the story, I was nervous.
But then I got happy.
And by the end, I was really happy.
Now isn't that a nice story?
Now there's only one thing left to say.
To everyone who supported the campaign through money and social media sharing, I publicly announce this:
You are amazingly super cool and beautifully angelic with rainbow happinesses pouring from your soul.
And also this . . .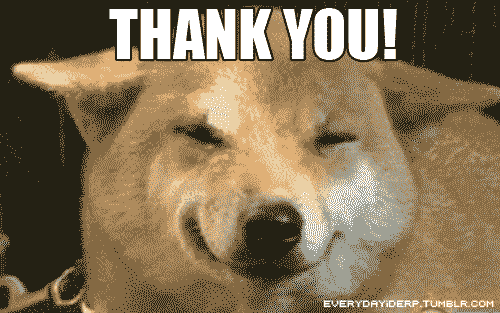 You're the best.
With love from,
Daniel Baylis
PS: If you'd like to see the campaign, click here: Daniel Baylis Makes Sweet Love To Indiegogo
PSS: If you'd like to buy my book, please visit: www.thetraveller.ca
PSSSSSS: I'M ON TWITTER, YO.
*
Related posts: